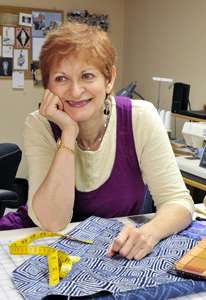 I was born and educated in Manchester in the north of England. I have always sewn. When I was younger I made my own clothes, and then when I owned my own home, I started making curtains, pillows, and more.
I came to America over 25 years ago and worked as a realtor for 10 years. During that time I spent many hours looking at incredible – and not so incredible – window treatments and soft furnishings. I quickly realized that it's the creative details that make the difference between a house and a home. It then became obvious to me that it was time to follow my passion – clothing and soft furnishings for the home.
I started doing clothing alterations, until one day a friend asked me if I could make a slipcover for a sofa bed. It turned out beautifully and I realized this was the direction I wanted my sewing to go. I enrolled in a professional slipcover course at the Custom Home Furnishing Academy in North Carolina. It was a really great experience, and I met some wonderful people. With professional training and the right tools, including a 1920's vintage industrial serger, I set up my Windham Stitches workroom.
I enjoy both machine and hand sewing, and will use whatever method best suits the project. I believe it's the attention to detail that makes the difference between custom and ready-made.
Stay in touch by signing up for my monthly newsletter!
We are so happy with the gorgeous slipcover Fran made for our sofa and for the cover she made for our piano seat. Both showed incredible craftsmanship and meticulous attention to detail. They are truly works of art and we feel so honored to have them in our living room.
It was an absolute pleasure working with Fran. She was so patient with us as we took some time to make a decision on the fabric- gently following up but never making us feel pressured. She also had a very nice selection of fabrics. Fran was very conscious of the cost- always suggesting the less expensive option first. She has such a wonderful, easy going disposition and is so passionate about what she does- it was a joy to see an artist at work! We highly recommend Fran, not only for her beautiful work but for a great experience! Jan, Monmouth Junction, NJ
About Jan, Monmouth Junction, NJ
You know you want to add new life and beauty to your home decor! Working with Fran was a pleasure beyond my expectations. From choosing the fabric, to the perfect workmanship of the finished product, I was delighted.
Arlene, Skillman, NJ
About Arlene, Skillman, NJ
I would highly recommend Fran Fox as a top notch seamstress. She is excellent at her job, and produces quality craftsmanship. Fran is very down to earth and easy to work with. She knows exactly what she's doing. She provides a large selection of fabrics to choose from, and is patient and works within your budget. She is very creative and produces custom-tailored designs. The projects are completed and installed in a timely fashion.
Beth, Belle Mead, NJ
About Beth, Belle Mead, NJ
Fran Fox made cornices for three rooms in my house. Her work is meticulous, and the finished products add so much warmth and beauty to my rooms. Choosing the fabrics with her was a pleasure, and I relied on her good judgment to help me with some difficult decisions. She was undaunted by the technical challenges that presented themselves. I couldn't be more pleased with the process or the results.
Barbara, Princeton, NJ
About Barbara, Princeton, NJ